The Cavapoochon, arguably one of the cutest dogs out there. Known as the dog which never grows old due to its sustained puppy type looks, this triple-cross breed is already a popular choice in the UK and is growing in popularity in the US.
In this guide, we'll cover everything you need to know about the Cavapoochon. How it's bred, how it differs from the Cavapoo, what it looks like, and how it behaves along with detail about its coat and color variations.
By the time you reach the end, you'll have a good idea about whether a Cavapoochon is a dog for you and some of the things you need to consider if you have decided to welcome one into your family.
Let's get into it, starting with the basics.
What is a Cavapoochon?
A Cavapoochon is a breed of dog which is triple bred. This means that it's a mixture of three purebred dogs – the Cavalier King Charles Spaniel, the Bichon Frise and the Poodle.
Typically, a Cavachon which is a cross between a Cavalier King Charles Spaniel and a Bichon Frise is crossed with a Toy Poodle to produce the Cavapoochon. Sometimes a Miniature Poodle is used.
In theory, crossing a Cavapoo (Cavalier King Charles Spaniel and a Poodle) with a Bichon Frise would also produce a Cavapoochon but the accepted standard seems to be the mix mentioned above which would result in a dog which is 25% Cavalier King Charles Spaniel, 25% Bichon Frise and 50% Poodle. This is the mix of the first ever Cavapoochon which is credited to Steve and Linda Rogers of Timshell Farm in Texas.
Cavapoochons are small, intelligent and friendly dogs which don't require a huge amount of exercise and because of their thick fleece coat, tend to be good for allergy sufferers.
Being a triple-cross breed, they're known for their hybrid vigor and strong health.
The breed is not recognized by the UK Kennel club or the American Kennel Club.
What is the Difference Between a Cavapoo and a Cavapoochon?
Is a Cavapoochon Smaller than a Cavapoo?
Cavapoo
Cavapoos are classified as a small to medium sized dog. Their overall size will largely depend on the size of their parents. Usually the Toy or Miniature Poodle is used to create this breed. The Toy Poodle will average at 9" to 11" tall from paw to shoulder and weigh between 6lbs and 9lb. The Miniature is only slightly taller at 11" to 14". However, they are almost double the weight of their Toy cousins with an average of between 12lbs – 20lbs.
The Cavalier King Charles Spaniel is categorized as a small breed dog and are similar in both height and weight to the Miniature Poodle. They have an average height of 12" to 13". Their average weight range is 13lbs – 18lbs
Taking all these figures into consideration, the height of the average Cavapoo lies somewhere between 9" to 14" and will weigh between 9lbs – 20lbs.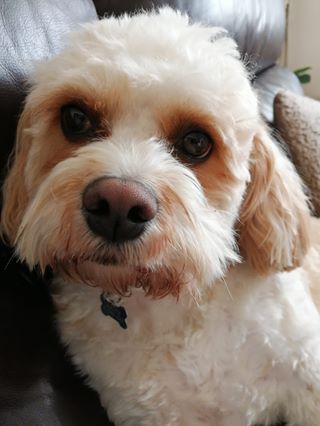 Cavapoochon
As we have already learned the Cavapoochon is usually created by crossing the Cavachon and Toy Poodle. The Cavachon, a cross of two small breeds, is also considered as a small dog although can weigh more than the average Cavapoo. Their average height measured from paw to shoulder will be between 12" and 13", and their weight between 15lbs and 30lbs.
Where does this leave the Cavapoochon? There is lots in the mix with this breed, so they are open to many variants. Also, being a relatively new breed there are little standards to work towards. However, they are classified as a small breed dog, often compared to the size of a small Cocker Spaniel and will weigh between 12lbs – 15lbs on average. Some do grow bigger, usually the males, and can weigh up to 20lbs. They average around 12" in height once fully gown.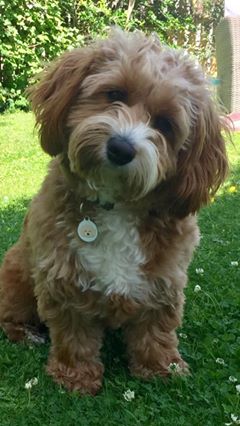 In Summary
| | | |
| --- | --- | --- |
| Cavapoo | 9lbs – 20lbs | 9" – 14" |
| Cavapoochon | 12lbs – 20lbs | 12" |
In short, we cannot definitively answer which will be the larger or smaller dog between the Cavapoo and the Cavapoochon. There is a relative crossover in both their heights and weights and overall their dimensions are similar. Their lineage being that of the Toy or Miniature Poodle will also be a deciding factor.
Do the Cavapoo and Cavapoochoon Look Alike?
Both the Cavapoo and the Cavapoochon have beautiful big brown engaging eyes not dissimilar to that of a Teddy Bear. In fact, the Cavapoochon is known for their Teddy Bear looks more than anything else. They both have a fluffy round face and, in many cases, will be difficult to tell apart for anyone but the very experienced.
Sometimes a Cavapoo may favor the Cavalier King Charles Spaniel genes but in these cases, you may be forgiven for not even recognizing them as a Cavapoo let along being able to distinguish them from a Cavapoochon.
Do the Cavapoo and the Cavapoochon have a Similar Temperament?
"Highly affectionate, playful, extremely patient and eager to please" is how Wikipedia describes the Cavalier King Charles Spaniel. Whilst the Cavapoochon is 25% less Spaniel than the Cavapoo, they are both still known for inheriting these wonderful qualities from the King Charles lineage.
They are both considered to be lap dogs, but they are both half Poodle. This brings a great ability for agility and an active mind that requires lots of mental stimulation. There is a plethora of interactive toys available on the market to keep them entertained and their brains ticking over. The 'Kong puppy dog toy' is a particular favorite which encourages appropriate chewing behaviors, fun playtime and even crate training when used alongside their stuffed snacks.
Both breeds are considered to be easily trainable and respond well to positive reinforcement. Lots of praise and the odd treat, and they will be learning new tricks and commands like pros. The Poodle in them makes them eager to please and they are happy making you happy.
Does the Cavapoochon have a Different Coat to the Cavapoo?
The Cavapoo typically has a coat that is short and soft. This is generally curly or wavy but can sometime be straight like their Cavalier King Charles Spaniel parent.
If they favor this line then they are more likely to shed and need less haircuts, if at all. The opposite is true if the curl of the Poodle is dominant. More brushing will be required and as their hair grows rather than sheds it will need regular grooming. The most popular Cavapoo coat colors are white, gold, chocolate, fawn, and cream.
The Cavapoochon has a thick, fleece coat. This can also be way or curly depending on the coats of their parents and even grandparents. They are considered to be hypoallergenic and don't tend to shed. When they develop their adult coat, it is more likely to be sleek and silky making it a breeze to maintain.
There is a varied collection of Cavapoochon coat colors, one of the most popular is red with white patterns.
Is a Cavapoochon Hypoallergenic and do they Shed?
As we know a Cavapoochon is a triple cross between the Poodle, the Cavalier King Charles Spaniel and the Bichon Frise.
Breeders will tell you that the Poodle and the Bichon Frise are both hypoallergenic. In fact, there is no such thing as 100% hypoallergenic as dander is not the only allergen that dogs can produce. Saliva and urine can also be triggers and if these are what you are allergic to then it unfortunately may mean that you can never be a dog owner.
However, for those who are allergic, dander is the trigger in many cases. This means that a dog who doesn't shed will be a much lower risk of causing an allergic response. The science behind this is actually quite simple – because the coat doesn't shed, the dander stays trapped between the dog's skin and fur rather than becoming airborne and collecting in your furnishings.  
The curls of the Poodle and the Bichon Frise go some way to them being considered hypoallergenic but this is not always the case, some straight-haired dogs also fit this classification. The conclusion remains that if they don't shed then they are likely to be hypoallergenic.
The Cavalier King Charles Spaniel is not classed as a hypoallergenic breed and they do shed. The website 'Stop my Dog Shedding' explains that they are single coated and are moderate shedders. Their coat will require a modest grooming routine to keep it tangle free and prevent excessive shedding.
We can conclude from all the above that should your Cavapoochon inherit the coat of the Poodle and/or Bichon Frise, they are unlikely to shed and likely to be hypoallergenic. In most cases, this will be true for this breed of Doodle. However, should they favor the Cavalier genes then it may be possible that they will trigger any allergies and shed moderately.
How Big do Cavapoochons Get?
We have touched on the size of the Cavapoochon earlier in this article when comparing them to the Cavapoo. We have already learned that they stand around 12" tall and weigh between 12lbs and 20lbs. This classifies them as a small breed dog, the same classification as all three of the breeds used to create them.
The average height and weight of the breeds used to create the Cavapoochon are as follows:
| | | |
| --- | --- | --- |
| Bichon Frise | 10lbs – 20lbs | 9" – 12" |
| Cavalier King Charles Spaniel | 13lbs – 18lbs | 12" – 13" |
| Cavachon | 15lbs – 30lbs | 12" – 13" |
| Toy Poodle | 6lbs – 9lbs | 9" – 11" |
| Miniature Poodle | 12lbs – 20lbs | 11" – 14" |
With this easy to view table you can see that whilst there is a fairly wide range of figures for both height and weight, they are all relatively small. Even the Cavachon on the heavier side of average is only the size of an English Cocker Spaniel.
The overall size of your Cavapoochon will depend on their lineage. The size of their parents and even grandparents will play its part. Of course, whether the Toy Poodle or Miniature Poodle is used to breed your Cavapoochon will also be a factor.
Using this knowledge, it is safe to assume that should you live in an apartment, a condo, or a smaller house, a Cavapoochon will fit perfectly into your family space. Adaptable and easy-going if you meet their exercise needs then they will be happy at your feet or on your lap when at home.
Ultimately you won't know how big your Cavapoochon will be until they stop growing, but taking a look at our guide and both their parents may go some way to giving you a good idea.
Cavapoochon Colors and Coats
Teddy Bears! The Cavapoochon really does look like your favorite childhood friend and if you sat them on the end of the bed will a bunch of soft toys you really would struggle to figure out which was the real life canine.
Being 50% Poodle and 25% Bichon Frise they are extremely likely to have a curly coat just like their forbears which accounts for their ultra-cute look that never seems to age.
Ultimately, genetics will decide the type of coat and color of your Cavapoochon, and whilst you may be able to take an educated guess by looking at your pups' parents' recessive genes, they can always throw a surprise into the mix. However, they are known for their thick and fleecy coat.
The curl gene is dominant so your Cavapoochon will only need to inherit one in order to be curly. This doesn't mean though that their parents' wont both carry the non-curl gene. Genes come in pairs so if both the sire and the dam pass a non-curl gene down to their puppies then a straight-haired pooch is what you're going to get.
Colors are plentiful in this breed. Let's just look at the wide range in which their parent breeds exhibit:
Bichon Frise: The Bichon Frise has four recognized color and marking standards with the American Kennel Club, these are white, white & cream, white & buff, white & apricot
Cavalier King Charles Spaniel: The AKC also allows for four standards in the King Charles. There is black & tan and tri-color which is a mix of white, black, and tan. Blenheims are the most common of the four. Blenheim is a parti-color of chestnut on a white background. The color is specific to the King Charles and is in honor of the Duke of Marlborough who had a penchant for the breed. Ruby is the only solid color that is recognized.
Poodle: The Poodle has a whopping 28 colors recognized by the American Kennel Club. These range from apricot to black and from café au lait to grey and white. A full list can be found under their breed standard page. Whilst they are recognized in both solid and particolored coats, only solid coats are allowed to compete in conformation.
Phew, that's a lot of colors between the three of them. However, it should go to show the many variants that are brought to the gene pool when a Cavapoochon is bred.
One of the most common coat colors for the Cavapoochon is red with white markings but other colors include red, cream, black, sable, white & apricot, black & white, and tri-colored black, tan and white.
Do Cavapoochons Smell?
The Cavapoochon isn't known for its strong odor. In fact, quite the opposite, typically they will have a low odor if any at all. That doesn't mean to say that you don't need to look out for their personal hygiene. You still need to take some time to keep them clean, groomed, and free from dirt and detritus.
There are also certain events throughout their life that may make them smell and certain things that you need to look out for. When you bathe your Cavapoochon make sure that you use a good doggy shampoo and get right down into the skin. How often should I bathe my Cavapoo will give you lots of tips and information about how to give your pooch a successful bath.
Sometimes dogs can get infections, and these can be smelly. Poodles are prone to skin infections and whilst hybrid vigor should go some way to reducing the risk in your Cavapoochon, it won't eliminate it completely. Skin infections can be uncomfortable and itchy as well as whiffy, but you can buy over the counter remedies. However, you do need to keep a watchful eye on the severity and you may need to consult your vet.
Their ears are particularly susceptible to infections so pay close attention to them. Check them regularly and ensure the hair doesn't become too long around them, or on the inside. Should they get wet, during bath time or otherwise make sure you dry them gently with a towel. Don't be poking around inside or pushing anything into them. If you are at all worried or suspect your Cavapoochon may have an infection, then see your vet for professional diagnosis and treatment if necessary.
Halitosis will be as much of an issue in dogs as it is in people and the same preventative measures apply. Try to brush your Cavapoochon's teeth every couple of days as a minimum and ensure that you use toothpaste and brushes that are specifically for dogs. Start this routine as early as you can so that your pooch gets used to it and it becomes normality. Not only will brushing their teeth keep their breath smelling nice and fresh but it will keep their teeth and gums healthy.
Flatulence can also be an issue, and this is often linked to a poor diet or an intolerance. The odd room emptier is likely nothing to worry about but should you notice an excessive problem then it's worth reviewing their diet and speaking to your vet.
Take a look at 'do Bernedoodles smell' to learn about the many reasons your dog may smell and what the solutions are. Whilst they are very different dogs, in many respects much of the information will be just as relevant to your Cavapoochon.
Is a Cavapoochon Right for Me?
Ultimately, only you can answer this question and it depends on what you want from a dog and whether you are able to meet the required needs for the breed you choose.
We have already mentioned that the Cavapoochon is a perfect fit for small homes and apartments so if space is a concern for you then they fit the bill on this score. That doesn't mean that you can't be a Cavapoochon parent if you do have a big house and backyard, it just means they are adaptable. However, if you do have a yard, make sure that its fenced-in securely so that your fur baby can't escape.
They don't have high energy needs so if you are restricted by time or mobility then a dog with a slower pace of life could be just the ticket. It may be that you just really not into long walks. Regardless of your reasons for why your preference is not a high energy dog then the Cavapoochon is a good choice. They will still need regular walks, but exercise can also be had by indoor playtime and games of fetch.
As previously mentioned, the Cavapoochon is likely to be hypoallergenic so if you are an allergy sufferer then they come with very low risk of triggering your allergies. Try and spend some time with your pup beforehand to test the waters or even their parents if it's possible. Similarly, if this isn't an option, you could spend time with an unrelated Cavapoochon but bear in mind that this wouldn't always guarantee the same response from a different dog. 
Cavapoochons tend to inherit the intelligence of the Poodle so training should take minimal effort. They will want to please you and make you happy and will thrive on routine and positive reinforcement. Obedience training and socialization should be started from an early age to ensure you get the best results. A well behaved, friendly, and social pooch is what you are looking to achieve.
Their coats will likely need a daily brush. Those curls can hold in lots of grime and this will help to keep them knot free, healthy and always looking their best. Curly hair doesn't shed, it just continues to grow so they will also need to be groomed regularly. Pay particular attention to their furnishings, if your Cavapoochon can't see where they are growing due to their overgrown eyebrows it's a recipe for bumping accidents. An unkempt beard will only result in a water trail through your kitchen and a magnet for supper scraps.
Altogether they are a well-rounded mix of perfection. They look beautiful, are adaptable, don't require a lot of maintenance and above all will love and adore you. Who wouldn't want the Cavapoochon to be the dog for them?